Nice rain we had last week. Got lots of spring crops seeded into the ground, more carrots,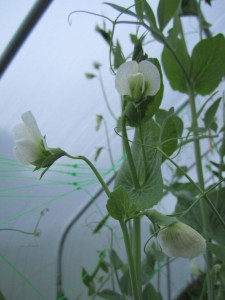 beets, chard, parsnips, cilantro, spinach, even some zinnias. Even got some cover crops planted which is nice. We are getting to the place were we have enough land open so we can do a nice cover croping system with our crop rotations, which I must say feels good.
Looking forward to planting out tomatoes and peppers in the next 7 to 10 days, they are nice plants, and well, we are getting a little tired of having to water them all the time and
carry them inside and outside, but that is ok. Our tomato crop will benifie greatly from the care we have been giving them.
I am pleased overall with the way things are looking out in the fields. Lettuce and broccoli are looking nice, radishes are looking nice and the onions and shallots are off to a very nice start now that they are watered in from last weeks rains. I am very pleased with the peas as this was the first year that I was able to give them soil that was pretty nice. Also the garlic is looking very nice.
Added two new mushroom beds this week, wine caps are the type and we have had some fruit already this year. I really like these mushrooms, they are easy to grow and very tasty! They will be in the CSA shares as well as show up at the markets! Here is a picture of one of the newest mushroom beds.
This Saturday is our first market in New Freedom. Come out and get some veggies!
Also we still have space in the CSA! You can sign up on our website.